CIMA Syllabus: Your Ultimate Guide


So, you're about to begin (or you're considering beginning) your accounting journey with CIMA.
Well, as the proverb goes, the journey of a thousand miles begins with a single step. And your first step towards CIMA qualification and membership (as well as the resulting career boost) is finding out what CIMA actually entails. 
And for that purpose, you have come to the right place! Trying to digest the CIMA syllabus (your road map to passing the CIMA exams) for the first time can feel rather daunting, but this guide will break down the CIMA syllabus so you can know exactly what you're getting into. 
We'll also share with you some expert insights into the optimum route through each of the CIMA levels, equipping you with what you need to know to begin your CIMA journey as smoothly as possible. 
2. The basics of the CIMA syllabus

3. Starting the CIMA journey

7. How long does CIMA take?

8. Is there a 'right' order?

9. What are the pass rates?

10. I want to get started with CIMA!

Now, before we dive too deeply into the depths of the CIMA syllabus, we need to answer the fundamental question of what CIMA actually is and does.
CIMA is the Chartered Institute of Management Accountants – one of the most respected accounting bodies in the world! And, as you may have guessed from their name, CIMA offers qualifications focused on equipping you to become a management accountant.
But what exactly is a management accountant? A management accountant is generally employed by a company to assess internal information, such as product sales figures, and analyse how it can be used to improve performance in the future.
Now it's time to stop and think – if you know you want to become a management accountant – great! CIMA qualifications are likely to be your best bet. However, if you already know that you don't want to be a management accountant – no problem! There are other options out there for you to progress your career.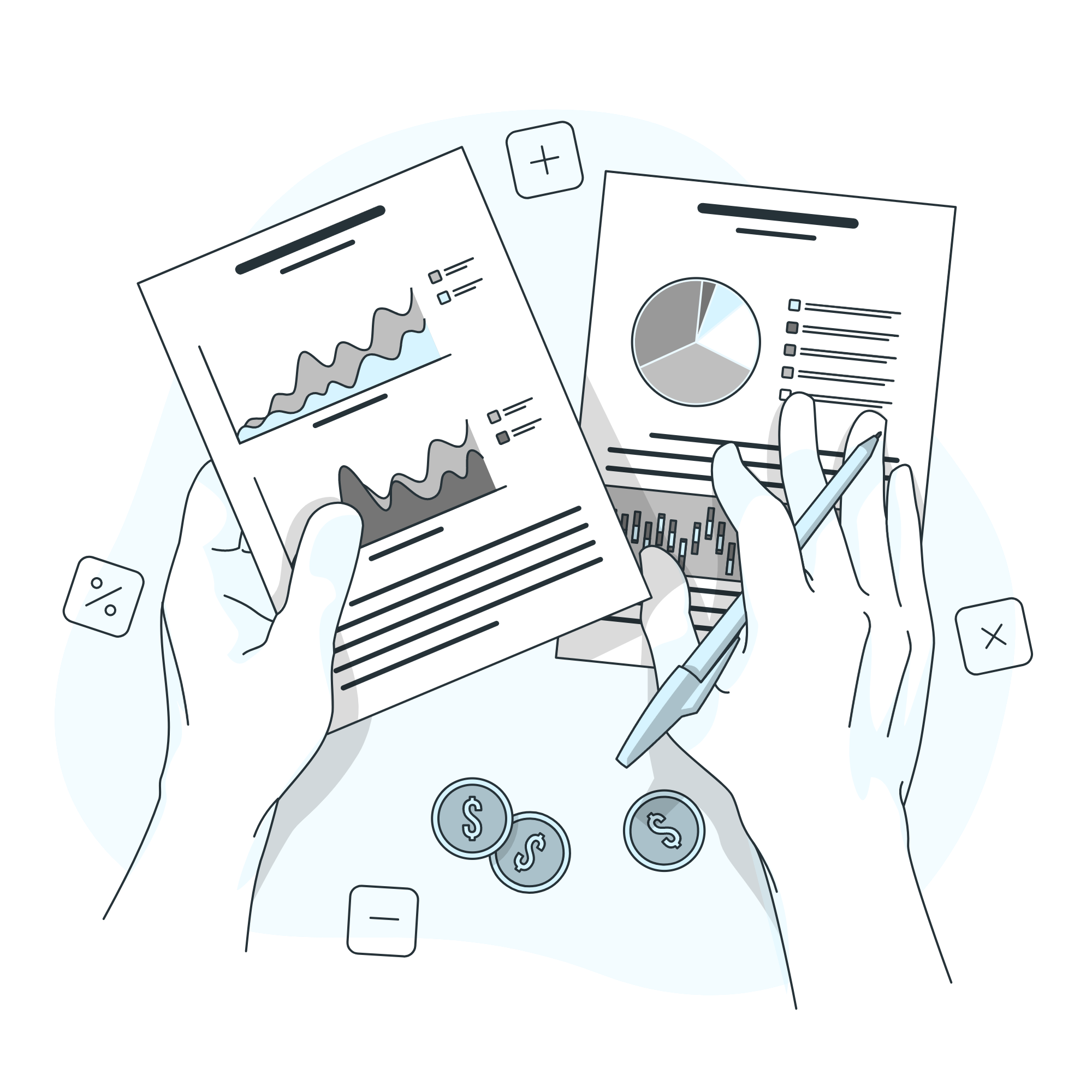 After reading this guide, you should have a clearer understanding of what CIMA can offer you if you decide to pursue it.
Now that we've got that sorted, onto the matter at hand: the CIMA syllabus!
2. The basics of the CIMA syllabus

The syllabus is where CIMA lists everything a student needs to know in order to pass their CIMA exams. There is a Certificate-level CIMA syllabus (last updated in 2017) as well as a Professional-level CIMA syllabus (last updated in 2019).
As you'll see in these official CIMA documents, there's a lot of talk of 'CIMA levels', 'exams', 'pillars' and other jargon – now, we understand that this may be confusing if you're new to it, so we'll now guide you through the basics here!
The 4 CIMA levels:
Certificate level
This covers the basics of accounting and it's designed to give you a great foundation for the rest of your studies. The Certificate-level exams are BA1, BA2, BA3 and BA4 (we'll discuss these a bit further down), and at the end you'll earn a CIMA Certificate in Business Accounting.
Operational level
The first of the 'professional' CIMA levels, this level focuses on the day-to-day operations and decision-making of the business – with a special emphasis on technology and working as part of a wider team. 
At this level, you'll take the E1, P1 and F1 exams as well as the Operational Case Study exam (more on these exams in a minute!) to earn a CIMA Diploma in Management Accounting.
Management level
The focus at this level turns to the implementation, monitoring and analysis of decisions – particularly how you can convert long-term decisions into medium-term ones.
At this level, you'll take the E2, P2 and F2 exams, as well as the Management Case Study exam, earning a CIMA Advanced Diploma in Management Accounting.

Strategic level
Almost done! By the time you reach this level, you'll have a lot of accounting knowledge. This final stage is about long-term strategic decision-making and supporting leaders within an organisation.
At this level, you'll take the E3, P3 and F3 exams as well as the Strategic Case Study exam. After you've completed this level and fulfilled the practical experience requirements (you can find out about this in our 'CIMA PER simplified' guide), you can apply to become a full CGMA (Chartered Global Management Accountant).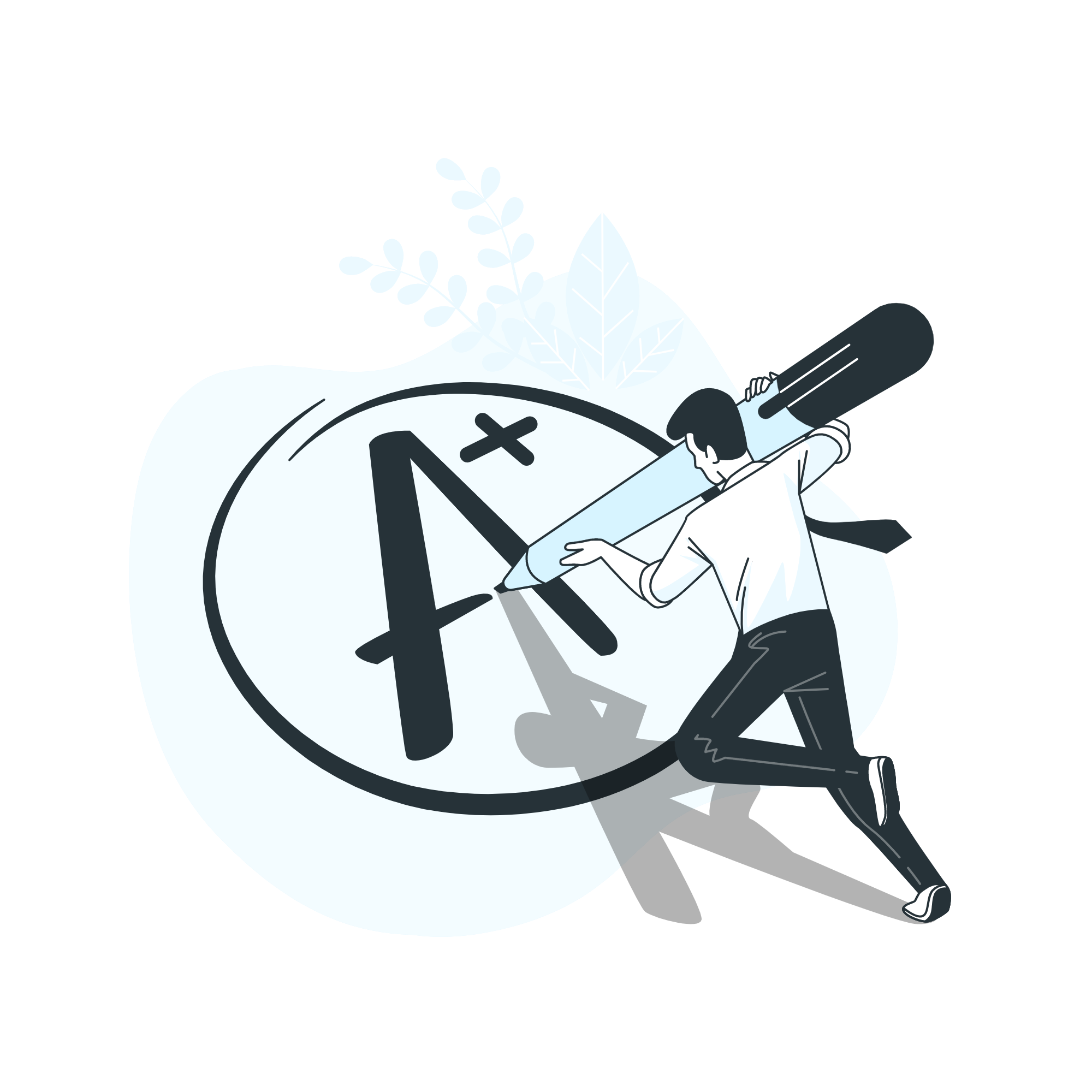 There are some key things you'll need to note:
The levels need to be taken in order from start to finish

. You have to start your CIMA journey at the Certificate level and take every exam in each of the

CIMA levels

in turn, going on to Operational, Management and then Strategic. That said, you may be exempt from some exams and not need to sit them (we discuss exemptions further down this page). 

Don't get confused if you hear the term '

Professional level

' – this is simply an umbrella term to cover all the

CIMA levels

above the Certificate level.
The 2 types of exams – Objective Test and Case Study
Each of the CIMA levels has 4 exams (16 in total across the entire syllabus). However, these exams come in two forms:
Objective Tests (OT) – e.g. BA3, P1, E2, P3: Designed to test your knowledge of the CIMA syllabus content. They have a range of question types, from multiple choice to number entry, but the crucial thing to remember is that these are
not essay-based,
and each question will have an objectively correct answer! 
Unless you have any exemptions, these will be the first exam type you come across, as all CIMA exams at Certificate level are objective tests.
Case Study (CS) –  If you complete all four
CIMA levels
, you'll have to undertake case studies examinations at the end of the Operational, Management, and Strategic levels.
These are designed to test your ability to apply the knowledge you've gained for the objective test exams to a fictional business scenario. To find out more, check out our definitive guide to CIMA Case Study exams.
The 3 pillars
We've discussed CIMA levels, and now it's onto pillars. You'll probably hear the term 'pillar' quite a bit as you study for your CIMA qualifications – so, what does it actually mean?
There are 3 pillars at the Professional level of the CIMA exams, and each pillar represents a key element of management accounting knowledge:
Enterprise (E1, E2, E3)
This pillar focuses on the finance function and how it interacts with the organisation using data and technology. It looks at business models and the management of people and projects to achieve organisational goals along with the formulation and implementation of strategy.
Performance (P1, P2, P3)
This pillar demonstrates how you can analyse costs, ensure the strategy is realistic and make decisions on pricing, capital and expenditure. When you get to P3, you'll focus on the risks an organisation faces and how best you can prevent them from damaging your organisation.
Financial (F1, F2, F3)
As the name suggests, this pillar is all about finance and financial accounting. It covers the regulatory framework and the reporting obligations, as well as how financial policy decisions are made.
The 3 pillars
What does this mean for you? 
You can choose the order in which you take the pillar exams

within a level

(so you can choose whether you take E1, P1, or F1 first when you start on Operational-level studies. But more on exam order later!)

You have to complete a level before moving up to the next level (e.g. you can't take P1, P2, P3 and then tackle the Es and Fs). 

You'll have to adapt to different exam styles. For the objective test exams, you'll have to know the

CIMA syllabus

contents inside out. Knowledge of the syllabus is important for the case studies, but you're not being assessed on reciting this knowledge as much – it's more about applying this knowledge in a relevant way to a realistic business scenario.
If you're feeling a little confused or overwhelmed by all of this new information, the diagram below should make things a bit clearer: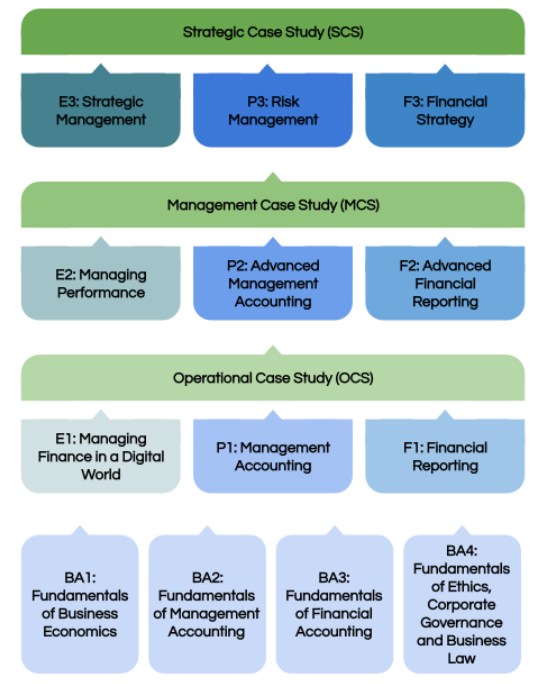 Now it's time to break the
CIMA syllabus
down even further and walk you through your CIMA journey, from the CIMA Certificate level at the bottom all the way up to the Strategic level.
It's important to note that within each CIMA objective test exam, the CIMA syllabus outlines the weighting for the key topics (the proportion of the exam devoted to each part of the syllabus). ALL topics in the syllabus MUST be studied, as ALL areas WILL be examined, so don't neglect an area just because it has a lower percentage weighting! 
3. Starting your CIMA journey – the Certificate level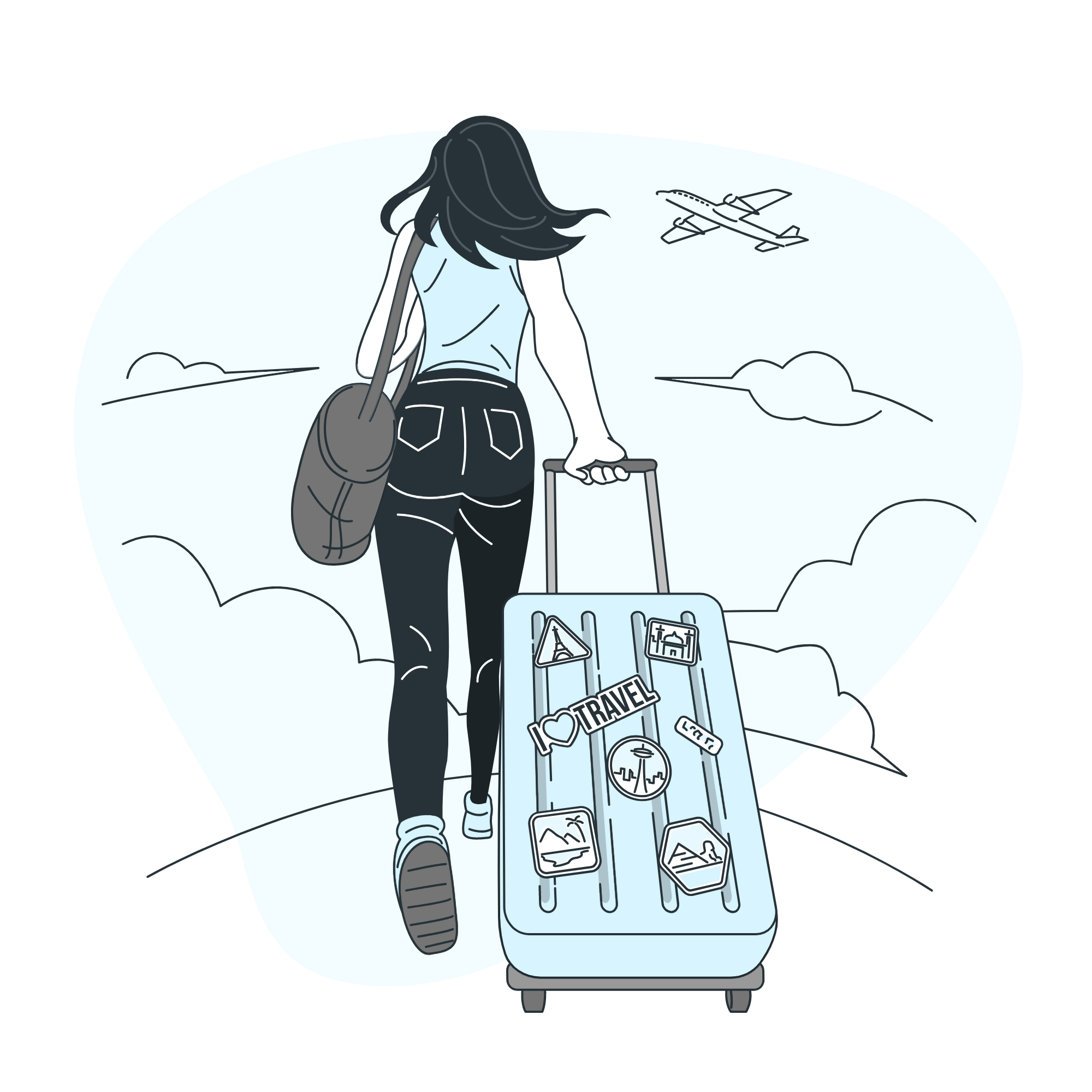 Unless you have exemptions, the first
CIMA qualification
you'll need to gain is the CIMA Certificate, which includes four exams – BA1, BA2, BA3 and BA4.
These exams are designed to help you understand the fundamentals of different areas within management accounting and are a great foundation to have for your future studies.
Remember:
All 4 of these exams are objective tests (so you won't have to write any essays!)

After you're done with this level, you don't necessarily have to continue in order to come away with something – the CIMA Certificate in Business Accounting is a

CIMA qualification

in its own right! However, most students continue since the opportunities and salaries resulting from each level increase as you progress. 
Let's take a brief look at what's involved in each of the four CIMA Certificate exams:
CIMA BA1 – Fundamentals of Business Economics
CIMA BA1 includes:
Details on the economic and operating context of business

The role that competition, financial market behaviour and government economic policy can influence an organisation

Information that management can use to evaluate and forecast the behaviour of consumers, markets and the economy
This exam has a nice split of calculations and economics theory. And if you're interested in current affairs and government policy, you may already be one step ahead!
CIMA BA2 – Fundamentals of Management Accounting
CIMA BA2 includes: 
An introduction to the role of Management and Financial Accountants

The various ways organisations can calculate their costs and profits

How organisations generate budgets and standards and then analyse variances between expected and actual figures in production
If you're totally new to accounting, you may find this exam to be the most difficult in the Certificate level as it introduces a lot of new concepts which can take a while to get your head around!
CIMA BA3 – Fundamentals of Financial Accounting
CIMA BA3 includes:
A practical understanding of financial accounting

Detail on the process behind the preparation of financial statements

An understanding of the role of legislation and of accounting standards

An introduction to measuring financial performance with the calculation of basic ratios
If you've just finished your BA2 studies, you'll have already encountered some of the topics covered in BA3, making it a bit easier!
CIMA BA4 – Fundamentals of Ethics, Corporate Governance and Business Law
CIMA BA4 includes:
An overview of the professional standards which need to be displayed to benefit all stakeholders

An insight into the place of ethics and ethical conflict in accounting organisations

Details on how organisations use corporate governance and internal/external audits to maintain public and stakeholder confidence in their operations

An insight as to how businesses use corporate social responsibility (CSR) to fulfil their obligations to the society in which they operate

The essential areas of contract law, employment law, administration and management you may need in your career
This exam is very different from the other 3 CIMA exams at the Certificate level – not only will you have to answer more questions (85 in the 2 hours, instead of 60), but you won't have to make any calculations!
That's your first stage of the
CIMA qualification
ticked off! However, this was just a whistle-stop tour of the
CIMA syllabus
for the Certificate level – for more information on these exams, check out our beginner's guide to the CIMA Certificate exams.
4. Going professional – Operational level
The next stage on the
CIMA qualifications
ladder is the Operational level. This is the first of the Professional
CIMA levels
– let's take a look at the exams you'll encounter!
CIMA E1 – Managing Finance in a Digital World
CIMA E1 includes:
How organisations are structured to operate effectively in a digital world

The structure and principles underpinning the operational functions of an organisation

How organisations achieve strategic objectives through efficient management and effective interactions
If you find the integration of new tech into business interesting, you'll like this exam, as a lot of the focus is on how digital technologies are both a help and a threat to the world of finance.
CIMA P1 – Management Accounting
CIMA P1 includes:
The importance of costs and the drivers of costs in the production, analysis and use of information for decision-making in organisations

Budgeting as a means of short-term planning to execute the strategy of organisations

How trends can be analysed and even forecast

How risks and uncertainty can be measured and analysed
If this sounds familiar, it's because you'll have encountered many of these topics in BA2! CIMA P1 builds on the foundational knowledge from your BA2 studies, so if you've retained your knowledge from that exam, you'll be in a great position to start studying for P1!
You can find out more in our complete guide to passing CIMA P1.
CIMA F1 – Financial Reporting
CIMA F1 includes:
The regulation and preparation of financial statements and how the information contained in them can be used

The competencies required to produce financial statements for both individual entities and groups using appropriate international financial reporting standards

How to effectively source and manage cash and working capital
It's crucial that you fully understand the concepts in this exam, as the competencies you gain here form the basis for developing further insights into producing and analysing complex group accounts (covered in F2) and formulating and implementing financial strategy (covered in F3).
Operational Case Study
The Operational Case Study (OCS) is the first exam of its type that you will face if you're working your way up from the start of the CIMA qualification. It's very different to the CIMA exams you've sat so far in terms of both the preparation required and the format. 
The most noticeable difference is that you'll have to write 4 essays (instead of tackling questions with an objectively right answer). In these essay-style answers, you'll take on the persona of a Finance Officer in a fictional organisation (set in a real industry) and prepare costing and budgeting information for the management. 
You'll be given a 'pre-seen' document around 6 weeks before the exam, which gives an overview of the fictional business, helping you to prepare for what you might write in the exam.
You can find out more about this type of exam in our definitive guide to CIMA Case Studies.
5. Next step – the Management level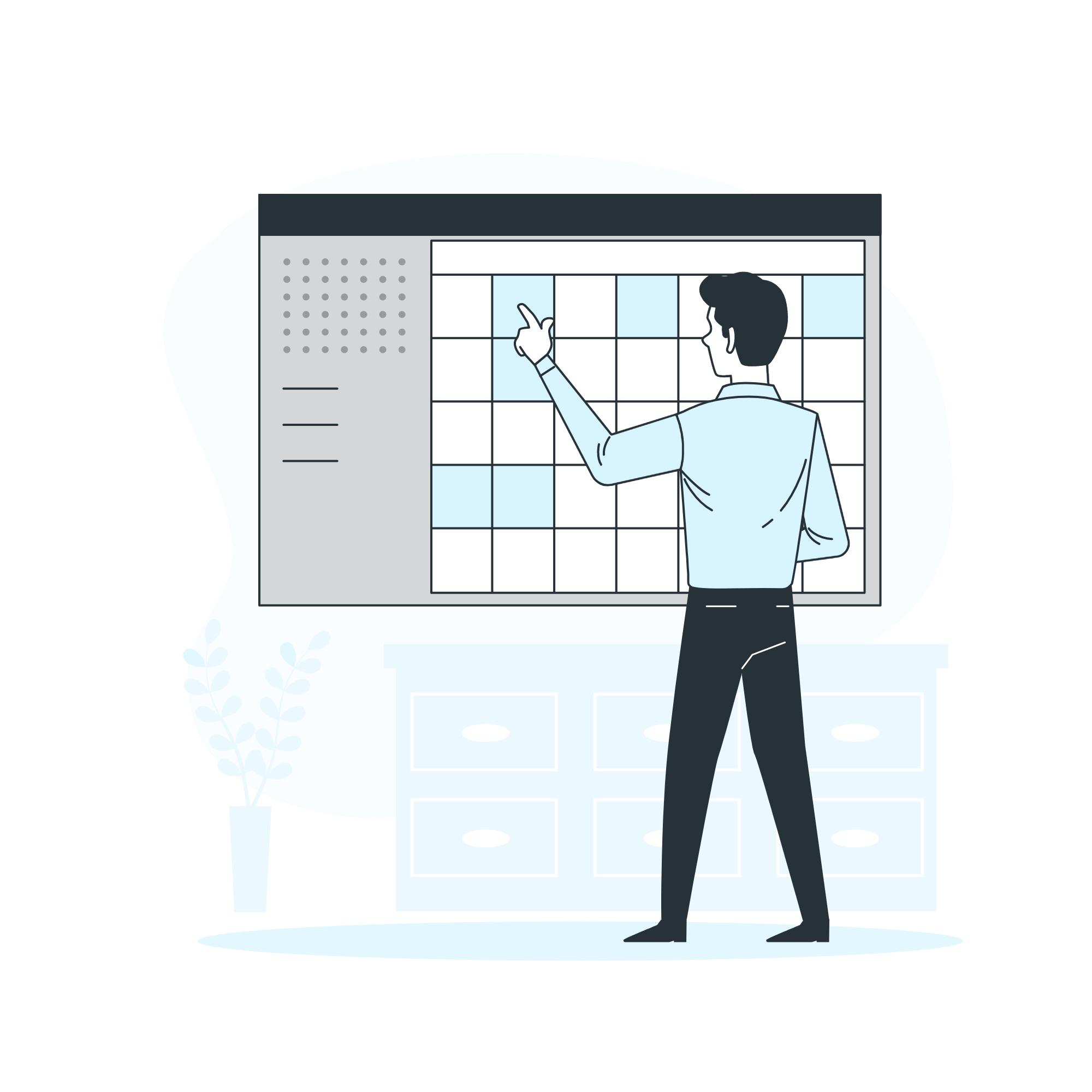 Moving up to CIMA Management level, you'll be building on the knowledge that you learned at Operational Level.
So, let's take a look at what the CIMA syllabus is all about for E2, P2 and F2…
CIMA E2 – Managing Performance
CIMA E2 includes:
A holistic and integrated approach to managing within organisations

Understand how organisational strategy can be implemented through people, projects, processes and relationships
Taking the time to understand how the different management theories actually work (considering how they apply to real people and situations) is a helpful step when preparing for this CIMA exam. 
CIMA P2 – Advanced Management Accounting
CIMA P2 includes:
The competencies required to analyse, plan and manage costs to support the implementation of an organisation's strategy

How to manage and control the performance of various units of the organisation in line with both short-term and long-term strategies

Investment decision-making and the associated risks

Understanding various types of risk affecting the strategy and operations of organisations
Your understanding of risk from P2 will be heavily utilised when you come to take P3 – so it's definitely to your advantage to retain this knowledge for your P3 CIMA exam!
CIMA F2 – Advanced Financial Reporting
CIMA F2 includes:
How to effectively source the long-term finance required to fund the operations of organisations, particularly their capital investments

Financial reporting and more complex aspects of group accounting

How to analyse financial statements to provide insights about the financial performance and position of the organisation over time and in comparison with others
When you start studying for CIMA F2, be prepared to learn A LOT of content. The syllabus for CIMA F2 is one of the longest you'll encounter in the CIMA syllabus. 
Specifically, you'll have to remember processes related to consolidating financial statements – this understanding of the processes will be crucial for your Management Case Study…
You can find out more in our complete guide to passing CIMA F2.
Management Case Study
Just like at Operational level, the Management Case Study (MCS) exam will consist of a three-hour, essay-based exam in which you'll be required to answer 4 scenario-based questions. This time, you'll take on the persona of a finance manager for a fictional organisation.
The questions will require you to display your abilities to…
Evaluate opportunities to add value

Implement senior management decisions

Manage performance and costs to aid value creation

Measure performance

Manage internal and external stakeholders
6. Your final hurdle – the Strategic level
You're almost there – just one last set of exams on your CIMA qualification journey!
We'll now look at what is on the CIMA syllabus for this level:
CIMA E3 – Strategic Management
CIMA E3 includes:
Building on E1 and E2, how organisations effectively implement their strategies by aligning their structures, people, process, projects and relationships

Developing your skill as a strategic leader, enabling you to create the vision and direction for the growth and long-term sustainable success of your organisation

Successfully managing and leading change within the process of strategy formulation and implementation
This exam has 6 key topics you'll be assessed on, each with 15% or 20% weightings – therefore, you need to be prepared to remember (and understand!) a wide range of topics for this exam.
CIMA P3 – Risk Management
CIMA P3 includes:
How to identify, evaluate and manage various risks that could adversely affect the implementation of the organisation's strategy

Analysing, evaluating and applying the techniques, processes and internal control systems required to manage risk

Cyber risks that may impact your organisation and how to manage them
With its total focus on risks and risk management, to fully understand CIMA P3, you need to develop a risk-aware mindset. This is quite an imaginative process, trying to anticipate what could go wrong and the consequences to an organisation of that event occurring. 
CIMA F3 – Financial Strategy
CIMA F3 includes:
The formulation and implementation of financial strategy to support the overall strategy of the organisation

Evaluating financing requirements, along with the relative merits of alternative sources of finance to meet these requirements

Valuing investment opportunities, including the valuation of corporate entities for mergers, acquisitions and divestments
The 'business valuation' syllabus area has a 40% weighting in F3 – so whilst you must ensure that you understand ALL of the topics in the syllabus, you should pay particular attention to this one!
You can find out more in our complete guide to passing CIMA F3.
Strategic Case Study
The Strategic Case Study (SCS) exam will be focused on a pre-seen company (just as the Operational and Management versions were). However, there is a slight change in the exam itself, where instead of four questions, you'll be faced with just three. 
For those 3 questions, you'll still be given the same amount of time (3 hours) – so, as you might imagine, a bit more is going to be expected from your answers. Also, this time, you'll take on the role of a senior manager.
The questions will require you to demonstrate that you can do the following…
Develop business strategy

Evaluate the business ecosystem and business environment

Recommend financing strategies

Evaluate and mitigate risk

Recommend and maintain a sound control environment
7. So, how long are the CIMA exams going to take?
The time it takes to complete the CIMA exams depends on which level you start at and how much study time you'll have available. As you'd expect, someone devoting all of their time to studying for a few weeks is going to get through an exam much quicker than someone fitting in a few hours a week around their work commitments. 
CIMA Certificate 
CIMA estimates that most students take 1 year on average to complete the four CIMA exams in the Certificate level. But at Astranti,we have found that CIMA Certificate exams can be completed in around 6 months (around work) if you really put your mind to it! So, somewhere between these two estimates is probably a fair average.
Professional Levels
Most CIMA students take between 3 and 4 years to complete the 12 Professional-level exams. 
The estimated time it will take you to learn and revise the content will vary between 7-11 weeks per exam, assuming you can devote about 10 hours a week. This does also depend on how difficult you find the material, so be prepared to take longer if you need to.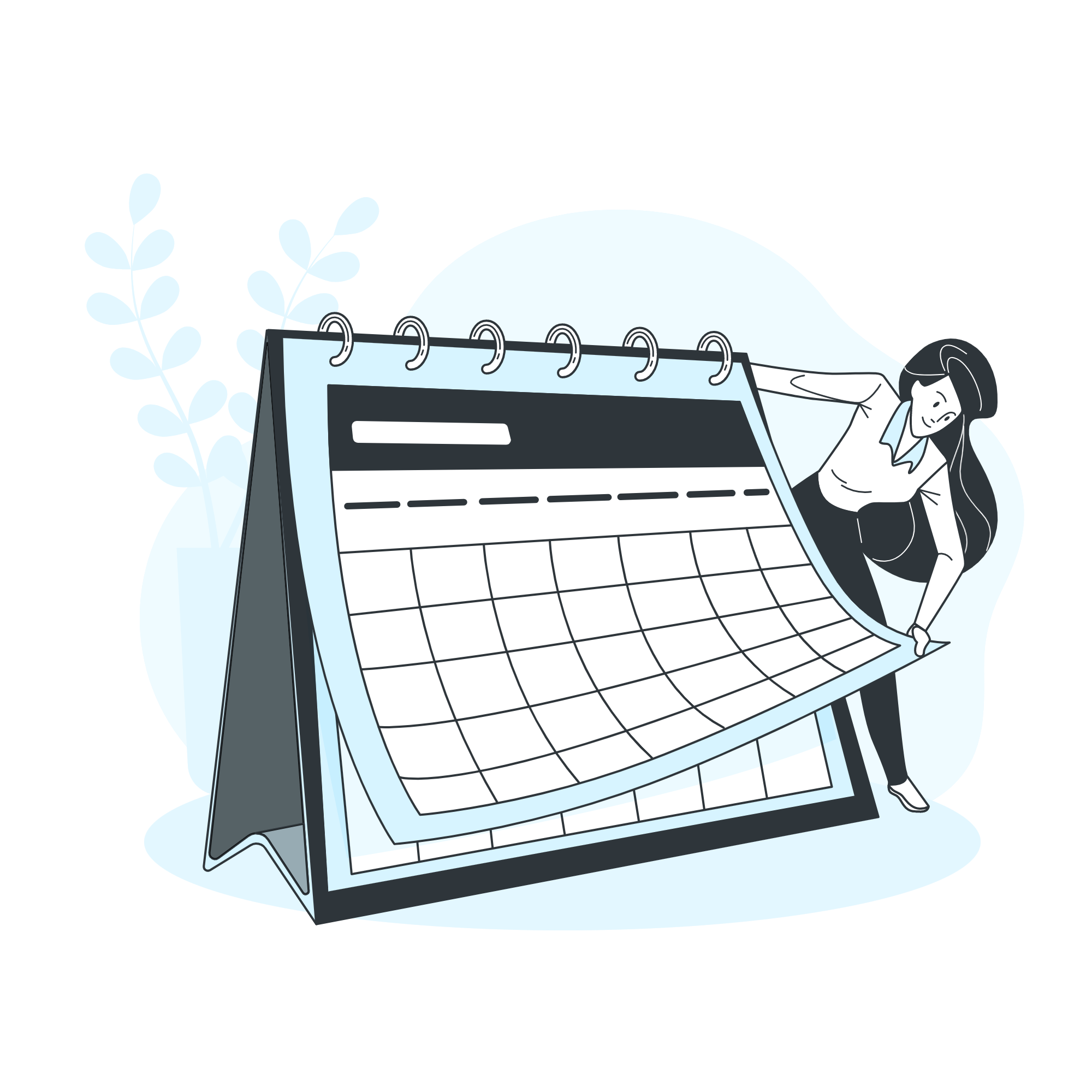 8. Is there a 'right' order to take the CIMA exams?
The answer to this one is yes and no! 
Let's start with the yes. 
Unless you have an exemption, your CIMA journey must start at the Certificate level.
Once this is complete, you'll be eligible to sit the Operational-level exams, followed by the Management level and finally the Strategic level.
To complete each of the Operational, Management and Strategic levels, you will have to sit a case study exam. These are essay-based exams that require you to apply the knowledge you have learned to a business scenario. These exams must be taken after you've passed or had exemptions from the objective tests at that level. 
However, that's not the whole story…
When completing your objective test exams for each level, you don't have to do them in any set order. 
For example, when studying for the CIMA Certificate, you don't have to start with CIMA BA1 and end with BA4! If you choose to start with BA2, BA3 or BA4, that's perfectly fine. 
Whilst it is totally up to you in which order you choose to sit the exams, we recommend:
Starting your certificate studies with BA2, followed by BA3. The topics in BA2 lay a good foundation for the rest of the Certificate subjects. There is a fair amount of content overlap between BA2 and BA3, so you should take BA3 as soon as possible after passing BA2! 
CIMA BA1 and BA4 have less crossover, so you may want to take them towards the end of your CIMA Certificate studies. BA4 also has the lowest pass rate (meaning it's the most difficult), so many people like to work up to it.
For Operational-level studies, we recommend either starting with E1 or F1, but taking P1 last as it's generally considered to be the hardest and because its content features prominently in the case study that follows.
Moving on to Management, we recommend E2 first, and then the remaining two in any order as P2 and F2 topics are more likely to appear in your Case Study exam.
Finally, with your Strategic-level exams, we recommend taking P3 or F3 first, with E3 last as it's the most relevant to the Case Study exam, so it will be fresh in your memory!
9. What are the CIMA pass rates and which exams are the toughest?

Here's a recent published set of pass rates for the CIMA exams. As you can see, E1 is the easiest CIMA exam, while P2 the hardest. If pass rates are what you're going on at least!
Exam pass rates (2022)
E1 – 84%
E2 – 83%
E3 – 74%
F1 – 80%

F2 – 51%
F3 – 55%
P1 – 52%
P2 – 43%
P3 – 58%
As you can see, the pass rate varies significantly between exams. For example, students tend to really struggle with the 'P' pillar OT exams but have less trouble with the 'E' pillar exams. Bearing this in mind, you may want to consider allocating more time for your 'P' exams.
And for certificate:
BA1 – 69%
BA2 – 63%
BA3 – 72%
BA4 – 57%
Case study pass rates are published each sitting. Here are those for 2022.
February 2022
Operational – 62%
Management – 73%
CIMA gateway – 45%
Strategic – 72%
May 2022
Operational – 62%
Management – 82%
CIMA gateway – 52%
Strategic – 62%
August 2022
Operational – 66%
Management – 69%
CIMA gateway – 45%
Strategic – 58%
November 2022
Operational – 66%
Management – 71%
CIMA gateway – 44%
Strategic – 71%
On average operational has the lowest pass rates: it's people's first case study and the first is the toughest because you're learning how to pass a really different style of exam. Once you've learnt the exam technique for one case study, it's much easier next time around so the Management and Strategic Case Studies are not actually easier, it's just people that get there are better prepared.
You'll also notice that the CIMA Gateway pass rate is much lower than the other Case Study exams. This exam is the same as the Management Case Study, but only taken by those who have received a CIMA exemption to this stage, making it their first CIMA exam without any of the preparation of doing the OTs or the Operational Case study. That makes it tough!
This highlights a real danger in accepting exemptions, as you may find that in reality, you're not ready to take the CIMA Case Study exams without having sat CIMA objective test exams. So if you are eligible for exemptions and start your CIMA journey via the gateway route, you will probably need to do a lot more work to pass that first exam.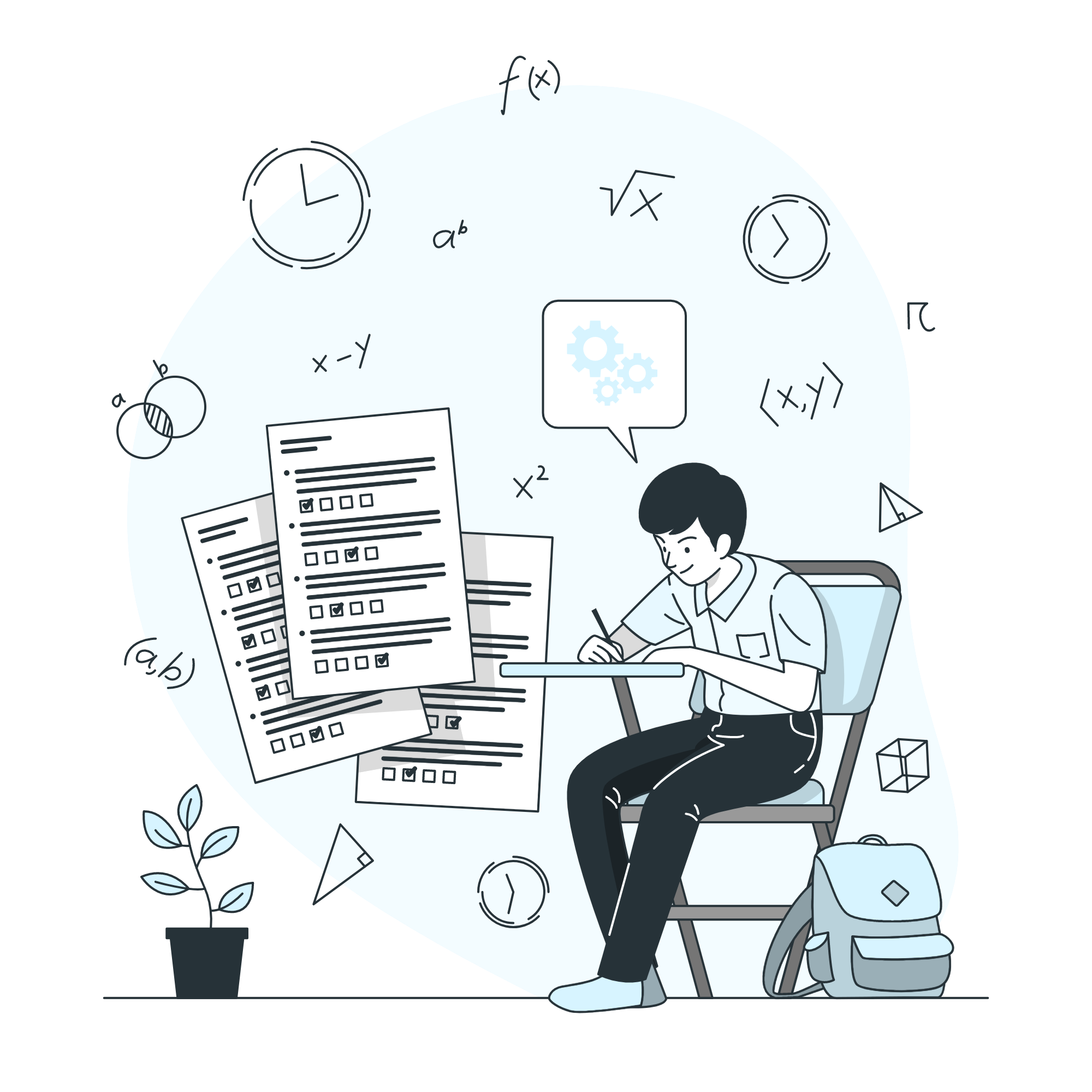 If you want to find the most up to date pass rates for your next CIMA exam, you can find them on CIMA's website. 
10. Alright, I want to get started on my CIMA exams!
Good choice! Let's run through the process from start to finish
Step 1: Register as a CIMA student
The first step is registering as a CIMA student on the CIMA website. This will only take you a few minutes!
When registering, remember to review all the CIMA entry routes, as you may have some exemptions depending on your previous qualifications.
If you don't qualify for any other entry routes or are uncertain on which option to take, choose Standard Entry. Don't worry too much at this stage, as you'll be able to apply for exemptions later!
Step 2: Pay your registration fee
When you register as a CIMA student, you must pay a registration fee. 
Your registration CIMA fees will vary depending on the entry route you take. You can check your registration fee on CIMA's website. It's worth noting that the same CIMA registration fees apply irrespective of your nationality or country of residence.
Step 3: Apply for any exemptions you are eligible for
If you joined CIMA via the Standard Entry route, you might still qualify for exemptions from certain CIMA exams, so do make sure to double-check if you haven't already. 
Remember, the places to go if you want to find more about exemptions, including if you're eligible, is CIMA exemptions search page and our ultimate guide to CIMA exemptions. 
If you're not eligible for exemptions, you can skip to Step 4.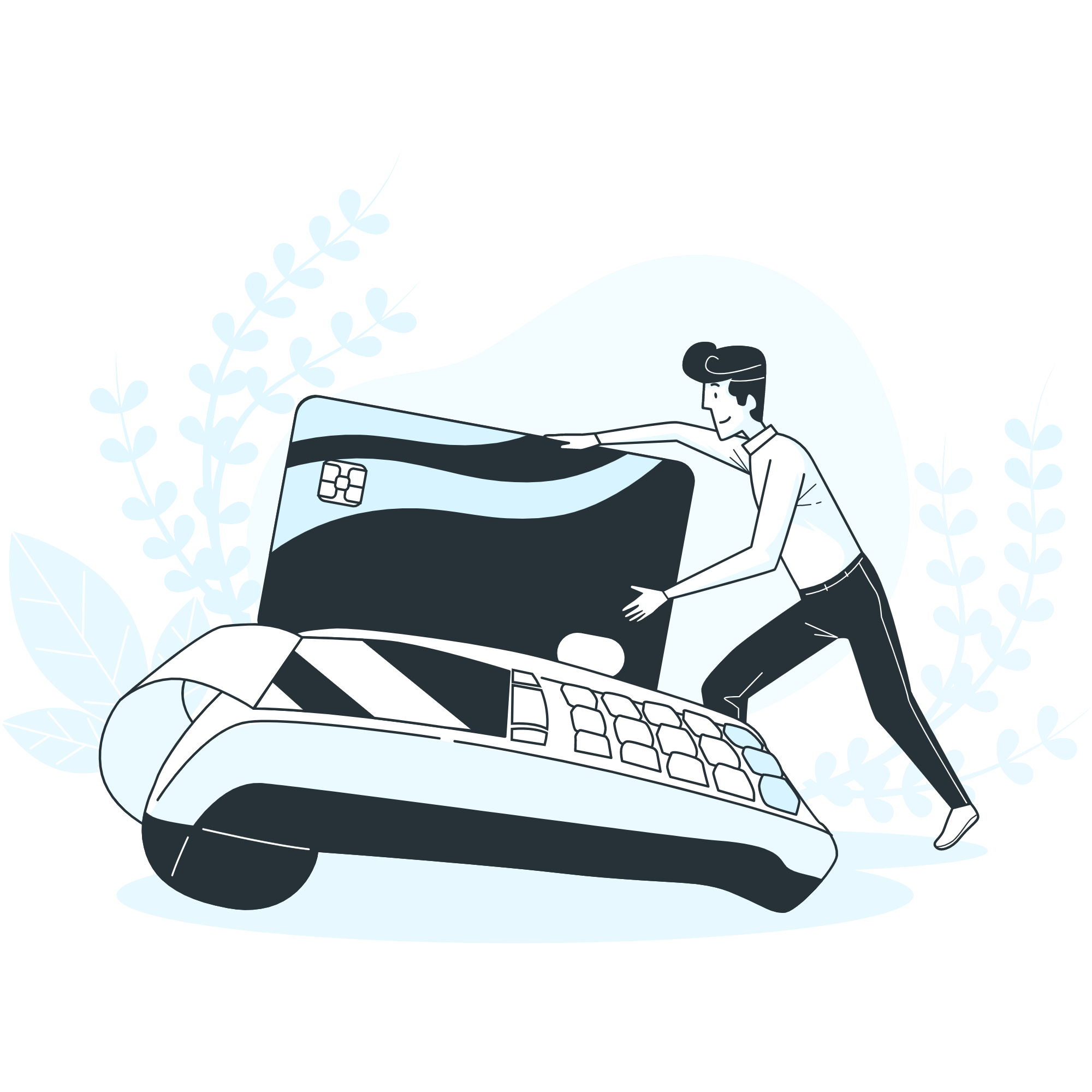 Step 4: Book your exam
We recommend that you book your first CIMA exam date before you start studying – this gives you a clear deadline to work towards!
To book an exam, log in to MyCIMA, and use the 'Schedule My Exam' button. You will then be transferred to the Pearson Vue website, where you can begin the booking process.
You can take your CIMA exams at a Pearson Vue testing centre or remotely at home via Pearson Vue's online system.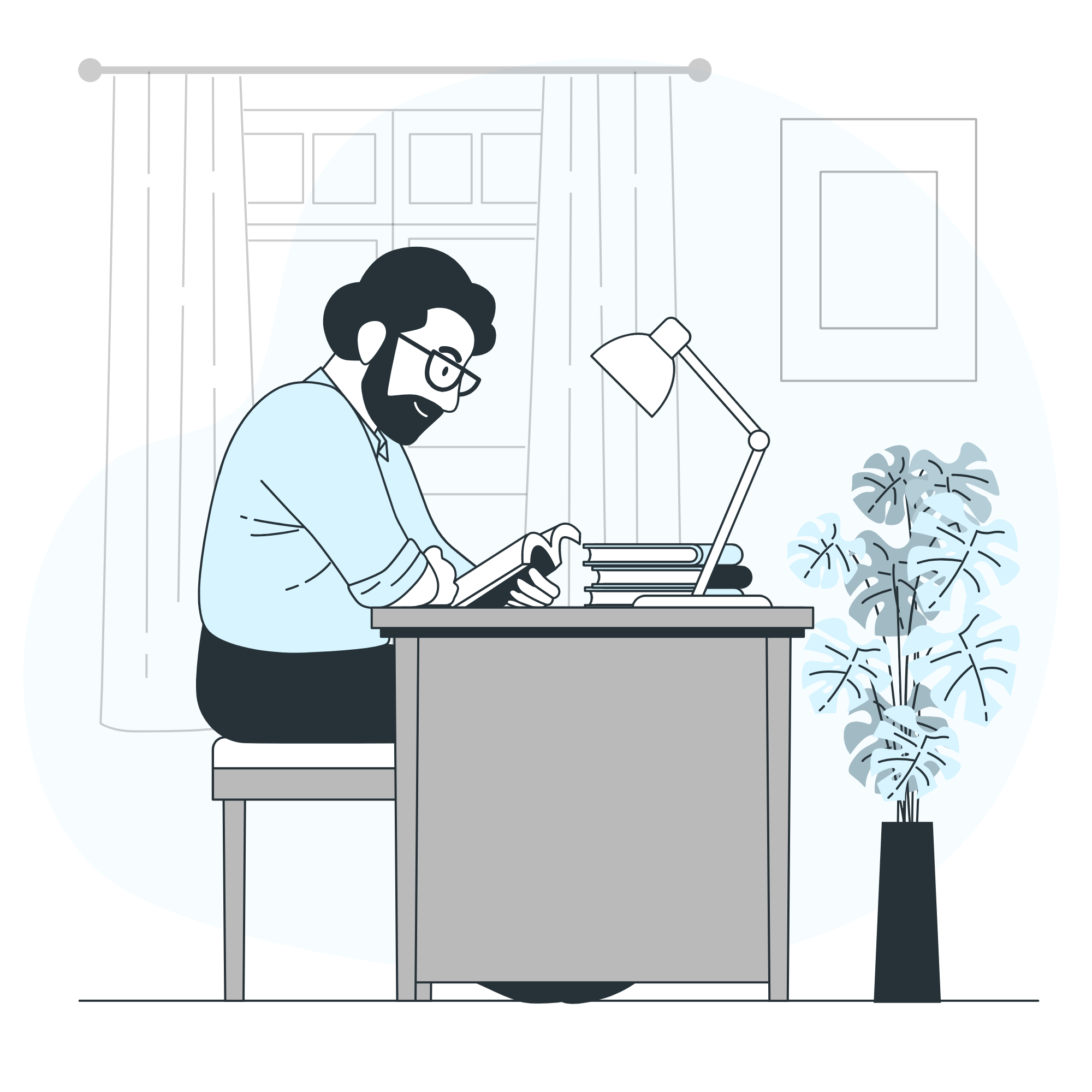 Step 5: Get studying!
Make sure you completely understand all of the content in the CIMA syllabus for your exam! 
You'll need to find a CIMA provider in order to learn all you need to pass your exam. We've also created a guide for how to find the right CIMA course for you, which can help you on your search for a CIMA provider.  
In particular, when preparing for your exams, we recommend using mock exams to get a feel for what you're facing. On that note, Astranti provides 3 free mocks for every Certificate-level exam (all of our Certificate materials are absolutely free), and 1 free mock for each Professional-level objective test exam.
Step 6: Sit your first exam
If you're taking it at a test centre…
On the day of your exam, make sure you arrive at your test centre at least 15 minutes before your exam and bring 2 pieces of ID with you – one MUST have your photo on it, e.g. a driver's licence or passport. 
If you're taking it at home…
You will need to follow the check-in procedures. 
You must make sure you have a computer with a webcam and a strong internet connection, as well as a clean, uncluttered work area. 
You will then need to provide a headshot photograph, and photographs of your identification and work area. 
Your exam should start within 15 minutes.
If there are any issues with your photos, identification or workspace, you will be joined by a greeter, who will help you troubleshoot. An exam invigilator will monitor you via webcam and microphone for the duration of your exam.
Whichever method you choose, you are now ready to sit your first CIMA exam. We wish you all the very best as you work towards gaining your CIMA qualification!
Find Your Astranti Course
We have OnDemand courses available for every stage of your CIMA studies, providing you with everything you need to pass your exams, including tuition videos, mock exams, study guides and tutor/mentor support.
Explore our courses below…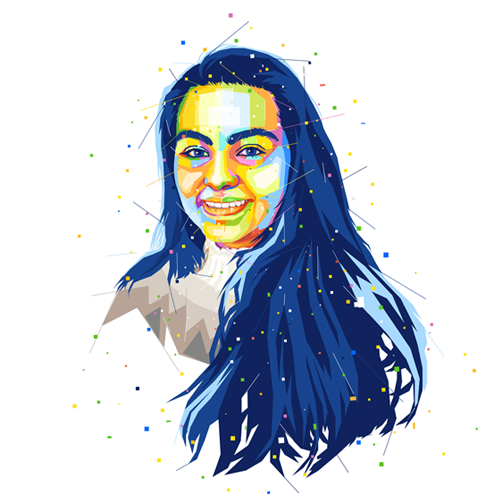 Holly Dymmock
Customer Service and Mentoring Supervisor
I hope you've found this guide on taking CIMA exams useful – but if you've got any further questions, leave a message and I'd be happy to help!